Home | About | Multimedia | Press | Letters | Glossary | Links
WHAT'S NEW ARCHIVE
JACK MARQUETTE 1948–2008
Jack Marquette died June 17, 2008 after a long battle with liver disease. Jack at one point managed Age of Consent.
The L.A. Weekly published this obituary on July 2. Musician Ethan Port posted his own tribute on Mobilization.com.
By his loving tending of his website Theoretical.com—now archived at Theoretical2.com—Jack chronicled the public (and sometimes private) lives of numerous Los Angeles artists of all stripes.
LOVE, WEST HOLLYWOOD
is a collection of essays by three dozen writers—among them, several friends and acquaintances of Age of Consent.
Two of those friends mention Age of Consent by name. In "Black Opera Gloves," Stuart Timmons describes a performance by Age of Consent, which just happens to have taken place at an event hosted by… Jack Marquette.
Robin Podolsky, in "To Live Outside the Law You Must Be Honest," a sort of extended discussion with her comrade Ferd Eggan, who died in 2007. Along the way, Robin recalls their roots, motivations, strategies, and actions, including one that features Age of Consent's John Callahan.
The book is available everywhere, including the publisher, Alyson Books.
GAY L.A.
Age of Consent and John Callahan also are mentioned and quoted, respectively, in Lillian Faderman and Stuart Timmons's Gay L.A.: A History of Sexual Outlaws, Power Politics, and Lipstick Lesbians (see website).
John is quoted as saying that, in the early '80s music scene described in the book, it was unnecessary to declare one's homosexuality because "public sexual orientation was passé." The chapter goes on to mention Age of Consent's "Missionary Position" and "Schizo Rap."
Stuart wrote the liner notes to Age of Consent's CD.
PROMINENT GIRLIE-MAN ADDRESSES ARNOLD
Jerusalem 9/1/04 – Self-described "girlie-man" Jesus H. Christ today took issue with a remark made last night by California Governor Arnold Schwarzenegger in his keynote address to the Republican National Convention in New York City: "Now, there's another way you can tell you're a Republican. You have faith in free enterprise, faith in the resourcefulness of the American people and faith in the U.S. economy. And to those critics who are so pessimistic about our economy, I say: Don't be economic girlie-men."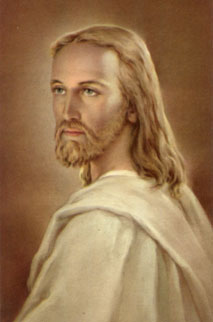 The normally reclusive Christ – like Schwarzenegger, a "once-scrawny" immigrant to the U.S. – spoke by telephone from his seaside villa in Galilee. "The Governor told us where his faith lies; let's just say that I'm personally disappointed. And I can only assume his final comment was aimed at me as well." Legend has it that in his beardless youth, Christ was often the butt of cruel jokes.
"Being a girlie-man does't seem to have hindered me in building a successful, highly competitive transnational. If anything, it's helped," clearly a reference to Christ's continuing successes in recruiting international leadership to his RC subsidiary, despite its scandal-plagued American division. He went on to remind the governor that he remains unaffiliated with any political party.
Distrustful of the touch-screen voting machines used in 2003 where he is registered, Christ declared, "I plan to vote absentee, although they don't make it easy in Hartford," referring to the restrictions placed on voters in Connecticut, as well as Rhode Island, Massachusetts, Kentucky, Mississippi, Alabama, and battleground states Pennsylvania, Missouri, and Ohio.