Home | About | Multimedia | Press | Letters | Glossary | Links
Age of Consent (1981-1985), from Los Angeles, is the world's first polysexual and gay rap group. Info about their retrospective CD is available below.

WHAT'S NEW

JOHN CALLAHAN 1945–2013
With sadness we mark the passing of John Francis Callahan, co-founder of Age of Consent. John died peacefully at home on Sunday, February 17. He had celebrated his birthday on February 2; he was 68 years old.
If Age of Consent never had been formed, band co-founder David Hughes still would be forever grateful for the ethic of professionalism that John brought to the work they did together in the summer of 1981. David thought he was doing performance art; John approached it as theater.
When John announced he wanted to move beyond Age of Consent in 1985, eventually becoming artistic director of Celebration Theatre in Los Angeles, little did David know that 20 years later he would interview John while researching the life of Celebration (and Mattachine Society) founder, Chuck Rowland. During AOC's five years, David, ten years John's junior, had little time for queer history—AOC's "History Rap" notwithstanding. But David shared John's passion for accuracy, and it is that which send David on his current pursuit.
John had a rich life, as he explained on his Facebook profile:
Politico, educator, actor, producer, director, co-founder of World's FIRST gay and bisexual rap group: Age of Consent 1981–1985. Currently doing battle with metastasized prostate cancer in my bones—no fun. Recently undergone Detox, Rehab and sober living—NOT a fanatic! In a 27 year Domestic Partner relationship with Brad Rader FlamingArtist.com and raderofthelostart.com.
John and Brad had since parted, but Brad was by his side when he breathed his last.
David talked with John many months before he died. John approached his illness—it was on-again-off-again—with a sense of good-natured wonder: This is happening to me; and so it is. John is survived by his daughter Lisa and former spouses Brad Rader and Donna Sprague. We all miss him.
A memorial for John Callahan will be held on Saturday, April 6, from 3 to 7 at John's home. If you need the address or more information, please contact us.
LESSON PLAN
JD Doyle, indefatigable collector and broadcaster at Houston's KPFT-FM, has developed Queer Music History 101: A Special Project of Queer Music Heritage, A Lesson For Use By University LGBT Studies Courses.
Since 2000, Doyle has produced his monthly radio show, Queer Music Heritage, on which Age of Consent has appeared from time to time. Queer Music History 101 is a more-or-less chronological romp through sixty years of "records" (remember those?) from the time their electronic players began to be marketed in the mid-1920s through the year of the first compact disc to sell a million copies.*
How many blueswomen have a U.S. postage stamp to commemorate their life, in part for singing, as did Ma Rainey, "I went out last night with a gang of my friends, they must have been women, cause I don't like no men." Who recalls the tradition of "cross-vocals" that allowed Bing Crosby to sing "Ain't No Sweet Man Worth the Salt of My Tears"? You may recognize Lisa Ben for her groundbreaking work with the Daughters of Bilitis, but have you heard her parody of "Frankie & Johnny"? All that and more are in store in Queer Music History 101.
___________
* And just what would that be, students? While this is not in the lesson plan, it is Dire Straits' Brother in Arms, containing the Grammy-winning "Money for Nothing," banned from airplay in Canada in January 2011 for containing the word faggot.
OLDER THAN OLD SCHOOL
Age of Consent's David Hughes has published biographical profiles of two pioneers in the area of gay civil rights. Bob Hull and Chuck Rowland co-founded the Mattachine Society with Harry Hay, Rudi Gernreich, and Dale Jennings sixty years ago. The Mattachine set the stage for the gay liberation activism of the 1960s and 1970s. The profiles are posted at OutHistory.org: Bob Hull … Chuck Rowland.
Chuck Rowland (l) and Bob Hull (r) with two early Mattachine members, Konrad Stevens (t) and Jim Gruber (b).
David has enough material for a book-length biography of Hull and Rowland, and plans to add a third, largely overlooked Mattachine member to the project.
"GAY TEENS ON TV"
—that's the headline on the cover of the January 28, 2011 issue of Entertainment Weekly.
A little different from "The Battle Over Gay Teens," when Time magazine covered the subject in October 2005 after the publication of The New Gay Teenager by Ritch C. Savin-Williams (Harvard University Press). Time claimed that, according to the book, gays are disclosing their sexual nature at about the time they graduate from high school. At that time, gay–straight alliances were being formed in U.S. schools at the rate of three a day, Time reported, according to the Gay, Lesbian and Straight Education Network.
Per the Time article, it is gay teens wagging the dog; as teens identify openly as being gay, institutions will be forced to come to terms with it rather than dismiss it as the hot potato it has been. As the article points out, the prigs always warned it would happen in the schools.
» OLDER WHAT'S NEW ITEMS ARE ARCHIVED HERE
ORDER THE AGE OF CONSENT CD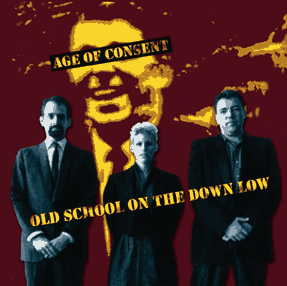 ORDER ONLINE
Age of Consent's retrospective CD, Old School on the Down Low, is available online through CD Baby or by mailorder (see below).
ORDER BY MAIL
To order directly from Age of Consent, send check or money order, $11.00 postpaid for one (1) CD or $16.50 for two (2), to:
Age of Consent
PO Box 39538
Los Angeles, CA 90039
Make check/money order payable to: John Callahan. For price breaks on quantities of 3 or more, please contact Age of Consent.
CD TRACK LIST
Visit CD Baby for samples.
Fight Back (Remix)
Missionary Position (Live)
History Rap (Live)
Diddle Rap (Live)
Dickie's Dead
Schizo Rap (Live)
Performance Pressure (Live)
God Sez (Live)
Twist and Shout (Live)
Age of Consent